Read these Top 5 June 2020 Books
In this Top 5, June Books 2020, I am focusing on Black authors. These stories need to be added to our TBR and most importantly READ. Not only am I celebrating Black Voices and stories I want to address the LGBTQIA+ community. They too are a community I want to celebrate, particularly as June is Pride Month.
A Moment for Reflection
It has been a difficult year. I think that's really an understatement with the current climate we face as a nation and as a species. There has been so much pain, suffering, and harm caused over the course of the birth of our nation. Where we as a society have not owned up to what's undeniably a systemic problem that has not yet changed.
Yet, in this time of difficulty we can turn to the voices who are demanding justice. Who deserve to matter in this world. They are tired, they are angry, and they need our support.
As I listen to their voices, I will educate myself on how I can better support the Black community. I want to be apart of that change. Be it reading books about and by people of color. Sign petitions. Donate to the causes that seek social and governmental change. I want the Black community and readers to know I am with you and listening.
I challenge you to read one or all of these books recommended in the Top 5 June Books 2020. You can do even more by helping support our Black Business Owners who own book shops across the country. A list is provided at the end of this post of Black owned Bookshops. These shops are a great resource in assisting you in purchasing these incredible works of art.
I hope each and every one of you are safe and healthy and reading a very good book.
Here's a few you should consider in that category:
Top 5 Books June 2020 Recommendation List
You Should See Me in a Crown by Leah Johnson
Liz Lighty has always believed she's too black, too poor, too awkward to shine in her small, rich, prom-obsessed midwestern town. But it's okay — Liz has a plan that will get her out of Campbell, Indiana, forever: attend the uber-elite Pennington College, play in their world-famous orchestra, and become a doctor.
But when the financial aid she was counting on unexpectedly falls through, Liz's plans come crashing down . . . until she's reminded of her school's scholarship for prom king and queen.
There's nothing Liz wants to do less than endure a gauntlet of social media trolls, catty competitors, and humiliating public events, but despite her devastating fear of the spotlight she's willing to do whatever it takes to get to Pennington.
The only thing that makes it halfway bearable is the new girl in school, Mack. She's smart, funny, and just as much of an outsider as Liz. But Mack is also in the running for queen. Will falling for the competition keep Liz from her dreams . . . or make them come true?
A Song Below Water by Bethany C. Morrow
Legacies meets Nic Stone's Dear Martin in Bethany C. Morrow's debut YA, A Song Below Water, about two best friends discovering their magical identities against the challenges of today's racism and sexism.
Tavia is already at odds with the world, forced to keep her siren identity under wraps in a society that wants to keep her kind under lock and key. Nevermind she's also stuck in Portland, Oregon, a city with only a handful of black folk and even fewer of those with magical powers. At least she has her bestie Effie by her side as they tackle high school drama, family secrets, and unrequited crushes.
But everything changes in the aftermath of a siren murder trial that rocks the nation; the girls' favorite Internet fashion icon reveals she's also a siren, and the news rips through their community.
Tensions escalate when Effie starts being haunted by demons from her past, and Tavia accidentally lets out her magical voice during a police stop. No secret seems safe anymore—soon Portland won't be either.
A Song of Wraiths and Ruin by Roseanne A. Brown
For Malik, the Solstasia festival is a chance to escape his war-stricken home and start a new life with his sisters in the prosperous desert city of Ziran. But when a vengeful spirit abducts Malik's younger sister, Nadia, as payment into the city, Malik strikes a fatal deal—kill Karina, Crown Princess of Ziran, for Nadia's freedom.
But Karina has deadly aspirations of her own. Her mother, the Sultana, has been assassinated; her court threatens mutiny; and Solstasia looms like a knife over her neck.
Grief-stricken, Karina decides to resurrect her mother through ancient magic . . . requiring the beating heart of a king. And she knows just how to obtain one: by offering her hand in marriage to the victor of the Solstasia competition.
When Malik rigs his way into the contest, they are set on a course to destroy each other. But as attraction flares between them and ancient evils stir, will they be able to see their tasks to the death?
All the Things We Never Knew by Liara Tamani
A glance was all it took. That kind of connection, the immediate and raw understanding of another person, just doesn't come along very often. And as rising stars on their Texas high schools' respective basketball teams, destined for bright futures in college and beyond, it seems like a match made in heaven. But Carli and Rex have secrets. As do their families.
Acclaimed author Liara Tamani's luminous second novel explores love, family, heartbreak, betrayal, and the power of healing, in gorgeous prose that will appeal to readers of Nicola Yoon and Jacqueline Woodson.
The State of Us by Shaun David Hutchinson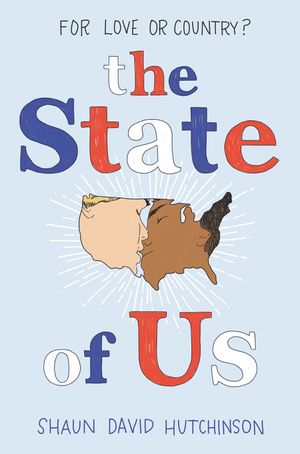 When Dean Arnault's mother decided to run for president, it wasn't a surprise to anyone, least of all her son. That doesn't mean Dean wants to be part of the public spectacle—at least not until he meets Dre.
The only problem is that Dre Rosario's on the opposition; he's the son of the Democratic nominee. But as Dean and Dre's meet-ups on the campaign trail become less left to chance, their friendship quickly becomes a romantic connection unlike any either of the boys have ever known.
If it wasn't hard enough falling in love across the aisle, the political scheming of a shady third-party candidate could cause Dean and Dre's world to explode around them.
List of Black Owned Book Stores
Mahogany Books
The Lit. Bar: Bookstore & Chill
The Key Bookstore
Cafe Con Libros
Black Stone Bookstore
Need More Book Recommendations?
Sheaf & Ink has reviewed a number of diverse books by authors of color. Read these reviews to find your next favorite book and join the conversation. We love hearing from you.


Sheaf & Ink Book Review With the Fire on High by Elizabeth Acevedo



Sheaf & Ink Book Review This is My America by Kim Johnson



Sheaf & Ink Book Review The Toll by Neal Shusterman