Sharing More Jewish Book Recommendations
Alright, it's time for us to dive into Part Two of my Jewish Book Recommendations.
I am excited to share this next group of books with you. Not only are they either by or about Jewish teens, but they are beautifully Queer.
So often teens dive into books to find a trace of themselves. To see someone who may understand their frustrations. Their joys. And really every feeling in-between when it comes to their identity and relationships.
When you're able to find that book, that narrative that speaks to you, it's a wonder to behold.
And today I'll focus on Jewish book recommendations that are Queer and Jewish. Stories that I hope will engage you. Listening to these characters who jump off the page. Trying like so many other teens, to find themselves, and be found in return.
Let's get to Part Two of the YA Jewish book recommendations you should purchase, put a hold at your local library, or listen to the Audiobook as these are going to change your life.
Diverse Jewish Book Recommendations
Contemporary Fiction – Romance
Boy Meets Boy by David Levinthan
Jeremiah feels good inside his own skin. That is, when he's in his own Brooklyn neighborhood. But now he's going to be attending a fancy prep school in Manhattan, and black teenage boys don't exactly fit in there.
When Paul meets Noah, he thinks he's found the one his heart is made for. Until he blows it. The school bookie says the odds are 12-to-1 against him getting Noah back, but Paul's not giving up without playing his love really loud. His best friend Joni might be drifting away, his other best friend Tony might be dealing with ultra-religious parents, and his ex-boyfriend Kyle might not be going away anytime soon, but sometimes everything needs to fall apart before it can really fit together right.
You Asked for Perfect by Laura Silverman
Senior Ariel Stone is the perfect college applicant: first chair violin, dedicated community volunteer, and expected valedictorian. He works hard – really hard – to make his life look effortless. A failed Calculus quiz is not part of that plan. Not when he's number one. Not when his peers can smell weakness like a freshman's body spray.
Figuring a few all-nighters will preserve his class rank, Ariel throws himself into studying. His friends will understand if he skips a few plans, and he can sleep when he graduates. Except Ariel's grade continues to slide. Reluctantly, he gets a tutor. Amir and Ariel have never gotten along, but Amir excels in Calculus, and Ariel is out of options.
Camp by Lev A.C. Rosen
Sixteen-year-old Randy Kapplehoff loves spending the summer at Camp Outland, a camp for queer teens. It's where he met his best friends. It's where he takes to the stage in the big musical. And it's where he fell for Hudson Aaronson-Lim – who's only into straight-acting guys and barely knows not-at-all-straight-acting Randy even exists.
This year, though, it's going to be different. Randy has reinvented himself as 'Del' – buff, masculine, and on the market. Even if it means giving up show tunes, nail polish, and his unicorn bedsheets, he's determined to get Hudson to fall for him.
But as he and Hudson grow closer, Randy has to ask himself how much is he willing to change for love.
Our Year of Maybe by Rachel Lynn Solomon
Aspiring choreographer Sophie Orenstein would do anything for Peter Rosenthal-Porter, who's been on the kidney transplant list as long as she's known him. Peter, a gifted pianist, is everything to Sophie: best friend, musical collaborator, secret crush. When she learns she's a match, donating a kidney is an easy, obvious choice. She can't help wondering if after the transplant, he'll love her back the way she's always wanted.
But Peter's life post-transplant isn't what either of them expected. Though he once had feelings for Sophie too, he's now drawn to Chase, the guitarist in a band that happens to be looking for a keyboardist. And while neglected parts of Sophie's world are calling to her—dance opportunities, new friends, a sister and niece she barely knows—she longs for a now-distant Peter more than ever, growing increasingly bitter he doesn't seem to feel the same connection.
Peter fears he'll forever be indebted to her. Sophie isn't sure who she is without him. Then one blurry, heartbreaking night twists their relationship into something neither of them recognizes, leading them to question their past, their future, and whether their friendship is even worth fighting for.
Mental Health
Little & Lion by Brandy Colbert
When Suzette comes home to Los Angeles from her boarding school in New England, she isn't sure if she'll ever want to go back. L.A. is where her friends and family are (along with her crush, Emil). And her stepbrother, Lionel, who has been diagnosed with bipolar disorder, needs her emotional support.
But as she settles into her old life, Suzette finds herself falling for someone new…the same girl her brother is in love with. When Lionel's disorder spirals out of control, Suzette is forced to confront her past mistakes and find a way to help her brother before he hurts himself–or worse.
The Art of Starving by Sam J. Miller
More Happy Than Not meets Glory O'Brien's History of the Future in this gritty, contemporary YA debut about a bullied gay teen boy with an eating disorder who believes he's developed super powers via starvation.
His stomach stabs and twists inside, pleading for a meal. But Matt won't give in. The hunger clears his mind, keeps him sharp—and he needs to be as sharp as possible if he's going to find out just how Tariq and his band of high school bullies drove his sister, Maya, away.
Matt decides to infiltrate Tariq's life, then use his powers to uncover what happened to Maya. All he needs to do is keep the hunger and longing at bay. No problem. But Matt doesn't realize there are many kinds of hunger… and he isn't in control of all of them.
Mystery
Echo After Echo by Amy Rose Capetta
Zara Evans has come to the Aurelia Theater, home to the visionary director Leopold Henneman, to play her dream role in Echo and Ariston, the Greek tragedy that taught her everything she knows about love.
When the director asks Zara to promise that she will have no outside commitments, no distractions, it's easy to say yes. But it's hard not to be distracted when there's a death at the theater—and then another—especially when Zara doesn't know if they're accidents, or murder, or a curse that always comes in threes.
Eli Vasquez, a girl made of tattoos and abrupt laughs and every form of light, looks at Zara. It's hard not to be distracted, even harder not to fall in love.
Magical Realism
A Room Away From the Wolves by Nova Ren Suma
Bina has never forgotten the time she and her mother ran away from home. Her mother promised they would hitchhike to the city to escape Bina's cruel father and start over. But before they could even leave town, Bina had a new stepfather and two new stepsisters, and a humming sense of betrayal pulling apart the bond with her mother—a bond Bina thought was unbreakable.
Eight years later, after too many lies and with trouble on her heels, Bina finds herself on the side of the road again, the city of her dreams calling for her. She has an old suitcase, a fresh black eye, and a room waiting for her at Catherine House, a young women's residence in Greenwich Village with a tragic history, a vow of confidentiality, and dark, magical secrets. There, Bina is drawn to her enigmatic downstairs neighbor Monet, a girl who is equal parts intriguing and dangerous.
As Bina's lease begins to run out, and nightmare and memory get tangled, she will be forced to face the terrible truth of why she's come to Catherine House and what it will take for her to leave…
Fiction – Politics
Wide Awake by David Levinthan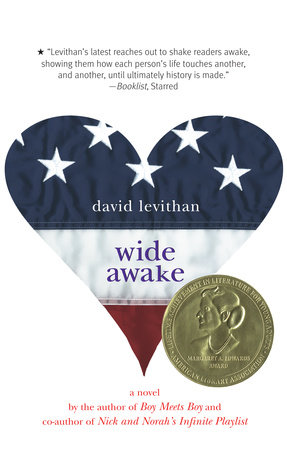 Everything seems to be going right in Duncan's life: The candidate he's been supporting for president has just won the election. Duncan's boyfriend, Jimmy, is with him to celebrate. Love and kindness appear to have won the day.
But all too quickly, things start to go wrong. The election is called into question… and Duncan and Jimmy's relationship is called into question, too. Suddenly Duncan has to decide what he's willing to risk for something he believes in… and how far he's willing to go to hold on to the people we hold dear
Novella
Avi Cantor Has Six Months to Live by Sacha Lamb
Avi comes across these foreboding words scrawled on the bathroom mirror, but what do they mean? Is this a curse, a prediction, or a threat from Avi's emboldened bullies? And how to they know his real name when he hasn't even told his mother yet?
Then there is Ian—the cool new guy at school, who is suddenly paying attention to Avi. Ian is just like Avi, but he is also all sunshine, optimism, and magic. All the things that Avi doesn't know how to deal with…yet.
A romantic, #ownvoices fairy tale for trans boys.
I hope you find more books to add to your TBR in this Jewish Book Recommendation Part Two. Stay tuned for two more book recommendations coming later this week.
Happy Reading ̴ Cece