Welcome to my stop of the @ToursTerminal Last Gate of The Emperor Blog Tour. I'm excited to spotlight Last Gate of the Emperor today on my blog and share a few of my thoughts with my fellow bookworms.
There's nothing like reading a book filled with action and adventure intertwined with a rich and alluring culture making Last Gate of the Emperor a heroic sci-fi story.

Cecelia Beckman Sheaf & Ink
My Thoughts: Last Gate of The Emperor
Sci-fi is always a fun genre to jump into. Where we get a glimpse of other far off galaxies. Exploring space with no limitations except the ones the authors have created. Discovering new worlds, new species, and the intricacies of those cultures and their way of life.
As the reader, we strap into our seats. Praying that we and our spaceship make it to our destination, while jumping from one close call to the next. Ever closer to saving the galaxy one chapter at a time.
The thrill of the ride will course through your veins. Where you'll discover a rich culture, history, and sense of place in a galaxy as vast and intricate as our own. An action adventure that makes for the perfect page turner, Last Gate of The Emperor is a perfect read for those ready for an epic adventure.
Which is why I'm excited to spotlight Kwame Mbalia and Prince Joel Makonnen's middle-grade novel, Last Gate of The Emperor.
Let's dive in:
Last Gate of The Emperor by Kwame Mbalia and Prince Joel Makonnen
An Afrofuturist adventure about a mythical Ethiopian empire. Sci-fi and fantasy combine in this journey to the stars.
Yared Heywat lives an isolated life in Addis Prime — a hardscrabble city with rundown tech, lots of rules, and not much to do. His worrywart Uncle Moti and bionic lioness Besa are his only family… and his only friends.
Often in trouble for his thrill-seeking antics and smart mouth, those same qualities make Yared a star player of the underground augmented reality game, The Hunt for Kaleb's Obelisk. But when a change in the game rules prompts Yared to log in with his real name, it triggers an attack that rocks the city. In the chaos, Uncle Moti disappears.
Suddenly, all the stories Yared's uncle told him as a young boy are coming to life, of kingdoms in the sky and city-razing monsters. And somehow Yared is at the center of them.
Together with Besa and the Ibis — a game rival turned reluctant ally — Yared must search for his uncle… and answers to his place in a forgotten, galaxy-spanning war.
---
Mini Review – Last Gate of The Emperor
Last Gate of The Emperor is a story that will have young readers thoroughly entertained and enthralled. Characters who leap off the page as charming, snarky, and sharp witted. Our MC Yared Heywat, the Ibis (who should have her own stand alone book), and Yared's bionic lioness Besa are what makes this story indelible. They work together every step of the way, having a few natural hiccups along the way. Linking them all together, a found family, when Yared felt like he had none.
Further, the descriptions flooded the senses. Readers will experience all the sensation of the sights and scents the moment Yared steps outside of his school walls. The scrumptious foods and the vibrant colors of a vividly imagined world, while keeping pace in trying to stay alive as monsters from myth try to take over Yared's home.
Happy Reading ̴ Cece
RATING:
– Satisfyingly Inked
---
Publication Details
Publication day: May 4, 2021
Publisher: Scholastic Press
Hardcover ISBN: 9781338665857
Pages: 352
Age Group: 8-12
Hardcopy: $17.99
Buy Links: ⬇️
---
Sneak Peek of the Ethiopian Lore Behind Last Gate of The Emperor
---
About the Authors
Kwame Mbalia is a husband, father, writer, a New York Times bestselling author, and a former pharmaceutical metrologist in that order. His debut middle-grade novel, TRISTAN STRONG PUNCHES A HOLE IN THE SKY was awarded a Coretta Scott King Author Honor, and it—along with the sequels TRISTAN STRONG DESTROYS THE WORLD and the untitled third book—is published by Rick Riordan Presents/Disney-Hyperion. He is the co-author of LAST GATE OF THE EMPEROR with Prince Joel Makonnen, from Scholastic Books. He lives with his family in North Carolina.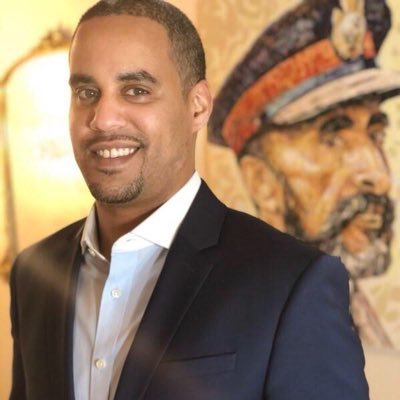 Prince Joel Makonnen is the great-grandson of His Imperial Majesty Emperor Haile Selassie I of Ethiopia. He is an attorney and the co-founder of Old World/New World, a media and entertainment company focused on telling powerful African stories that inspire global audiences through film, TV, and books. He lives with his wife, Ariana, in Los Angeles.
---
Need More Book Recommendations?
Here are some similar Middle Grade books recommended by Sheaf & Ink

Tristan Strong Punches a Hole in the Sky, Kwame Mbalia

Amari and the Night Brothers, B.B. Alston

Dragon Pearl, Yoon Ha Lee
---