Welcome to my stop of the Adult Assembly Required Blog Tour. I'm here to spotlight Adult Assembly Required on my blog and share a few of my thoughts with my fellow bookworms.
Blog Tour: Adult Assembly Required
Hello Book Family!
I am a devout Romance Reader and I love all the typical tropes authors are using in their books:
Enemies to Lovers
Slow Burn
Best Friends to Lovers
Fake Dating
Forced Proximity
The list goes on.
And when you have romances that include additional layers and complexities such as the characters backstory, family bonds, and gender identity and role, it makes a novel that much more rewarding. As readers we want engaging stories. Stories that will hold us captive from beginning to end. Pages that turn and turn until it's past midnight and you feel like what you've just read was a gift.
Even though Adult Assembly Required wasn't for me, readers who enjoy quirky characters, awkward moments, found family, and a bunch of adults trying to figure out how to adult, pick up a copy from your local library today.
Full Review by Sheaf & Ink Here
---
Adult Assembly Required Blog Tour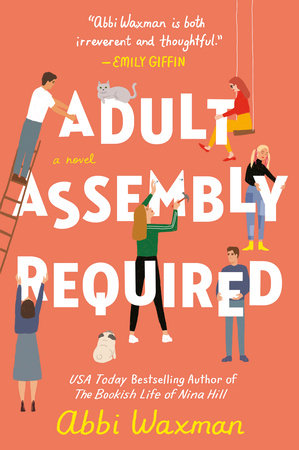 A young woman arrives in Los Angeles determined to start over and discovers she doesn't need to leave everything behind after all, from Abbi Waxman, USA Today bestselling author of The Bookish Life of Nina Hill
When Laura Costello moves to Los Angeles, trying to escape an overprotective family and the haunting memories of a terrible accident, she doesn't expect to be homeless after a week. (She's pretty sure she didn't start that fire — right?)
She also doesn't expect to find herself adopted by a rogue bookseller, installed in a lovely but completely illegal boardinghouse, or challenged to save a losing trivia team from ignominy…but that's what happens. Add a regretful landlady, a gorgeous housemate and an ex-boyfriend determined to put himself back in the running and you'll see why Laura isn't really sure she's cut out for this adulting thing. Luckily for her, her new friends Nina, Polly and Impossibly Handsome Bob aren't sure either, but maybe if they put their heads (and hearts) together they'll be able to make it work.
---
Publication Details
Title Adult Assembly Required
Author Abbi Waxman
Pages 400
Intended Target Audience Adult
Genre & Keywords Women's Fiction
Part of a Series? No
Source & Format NetGalley, Digital Copy
Publication Date May 17, 2022 by Berkley
Find it on Bookshop ● Goodreads ● Amazon ● Barnes & Noble ● Book Depository ● IndieBound● Indigo
Author Details
Abbi Waxman was born in England in 1970, the oldest child of two copywriters who never should have been together in the first place. Once her father ran off to buy cigarettes and never came back, her mother began a successful career writing crime fiction. Naturally lazy and disinclined to dress up, Abbi went into advertising, working as a copywriter and then a creative director at various advertising agencies in London and New York. Eventually she quit advertising, had three kids and started writing books, mostly in order to get a moment's peace.
Abbi lives in Los Angeles with her husband, three kids, three dogs, three cats, a gecko, a snake, five pigeons, four chickens, and two guinea pigs. Every one of these additions made sense at the time, it's only in retrospect that it seems foolhardy.
---
Welcome Reader!
I'm Cecelia and I'm so glad you're here! You'll find honest reviews, book recommendations, along with other bookish essentials. So happy you stopped by!
– C
📚Have you read Adult Assembly Required?
Join the conversation. We love hearing from you.⏬