Welcome to my stop of the A Love by Design Blog Tour. I'm here to spotlight A Love by Design on my blog and share a few of my thoughts with my fellow bookworms.
a love by design
From the Secret Scientists of London series, Vol. 3
Anyone interested in women in STEM + romance + historical fiction?🙋
Then pre-order this mash up of friends to enemies to lovers trope and second chances that will have romance readers delighted as they will be intrigued in this third romance novel of Everett's the Secret Scientists of London series.
A Love by Design, focuses on the pair to be matched: engineer Margaret "Maggie" Gault and George Willis, Earl Grantham. These two have a history of being childhood sweethearts, though eventually grow apart. I absolutely loved the prologue and the first impression these two made on each other!
But when Maggie returns to England, after her husbands death, she is determined to set up the first female engineering firm and enter Earl Grantham.
Cleverly penned, A Love by Design is a story of women in science breaking down the patriarchy, Gentlemen (George that is) taking on big issues in the political sphere regarding gender and class struggles, to create much needed social reforms, all the while a delicious romance unfolds, with intimate moments that include reproductive choices adding to the brilliance of the story as a whole.
Irresistible, you won't be able to put this one down.
Happy Reading ~ Cece
RATING:
– Exceptionally Inked
---
A Love By Design Blog Tour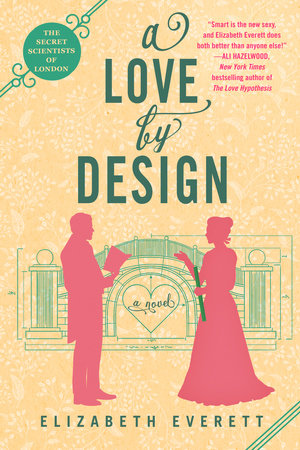 You couldn't design a better hero than the very eligible and extremely charming Earl Grantham. Unless, of course, you are Margaret Gault, who wants nothing to do with the man who broke her youthful heart.
Widowed and determined, Margaret Gault has returned to Athena's Retreat and the welcoming arms of her fellow secret scientists with an ambitious plan in mind: to establish England's first woman-owned engineering firm. But from the moment she sets foot in London her plans are threatened by greedy investors and—at literally every turn—the irritatingly attractive Earl Grantham, a man she can never forgive.
George Willis, the Earl Grantham, is thrilled that the woman he has loved since childhood has returned to London. Not as thrilling, however, is her decision to undertake an engineering commission from his political archnemesis. When Margaret's future and Grantham's parliamentary reforms come into conflict, Grantham must use every ounce of charm he possesses—along with his stunning good looks and flawless physique, of course—to win Margaret over to his cause.
Facing obstacles seemingly too large to dismantle, will Grantham and Margaret remain forever disconnected or can they find a way to bridge their differences, rekindle the passion of their youth, and construct a love built to last?
---
Publication Details
Title A Love by Design
Author Elizabeth Everett
Pages 352
Intended Target Audience Adult
Genre & Keywords Historical Fiction Romance
Part of a Series? Yes, The Secret Scientists of London #3
Source & Format NetGalley, Digital Copy
Publication Date January 17, 2023 by Berkley
Find it on Bookshop ● Goodreads ● Amazon ● Barnes & Noble ● Book Depository ● IndieBound● Indigo
Author Details
USA Today bestselling author Mimi Matthews writes both historical nonfiction and award-winning proper Victorian romances.
Her novels have received starred reviews in Publishers Weekly, Library Journal, Booklist, and Kirkus, and her articles have been featured on the Victorian Web, the Journal of Victorian Culture, and in syndication at BUST Magazine.
In her other life, Mimi is an attorney. She resides in California with her family, which includes a retired Andalusian dressage horse, a Sheltie, and two Siamese cats.
Photo Credit: Asa Shutts(TR)
---
FROM THE PUBLISHER
Exclusive Excerpt of A Love By Design by Elizabeth Everett
*From A LOVE BY DESIGN published by arrangement with Berkley, an imprint of Penguin Random House LLC. Copyright © 2023 by Elizabeth Everett. This excerpt was provided by the publisher's publicity team and is copyright material. Copyright infringement is against the law.
---
Instagram A LOVE BY DESIGN Blog Tour Post
Check out my Bookstagram post ⬇️
---
📚Have you read A Love by Design?
Join the conversation. We love hearing from you.⏬
Welcome Reader!
I'm Cecelia and I'm so glad you're here! You'll find honest reviews, book recommendations, along with other bookish essentials. So happy you stopped by!
– C
---