The Story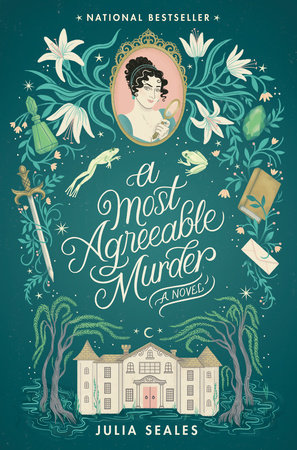 A MOST AGREEAGBLE MURDER by Julia Seales
When a wealthy bachelor drops dead at a ball, a young lady takes on the decidedly improper role of detective in this action-packed debut comedy of manners and murder.
Feisty, passionate Beatrice Steele has never fit the definition of a true lady. According to the strict code of conduct that reigns in Swampshire, her small English township—she is terrible at needlework, has absolutely no musical ability, and her artwork is so bad it frightens people. Nevertheless, she lives a perfectly agreeable life with her marriage-scheming mother, prankster father, and two younger sisters— beautiful Louisa and forgettable Mary. But she harbors a dark secret: She is obsessed with the true crime cases she reads about in the newspaper. If anyone in her etiquette-obsessed community found out, she'd be deemed a morbid creep and banished from respectable society forever.
For her family's sake, she's vowed to put her obsession behind her. Because eligible bachelor Edmund Croaksworth is set to attend the approaching autumnal ball, and the Steele family hopes that Louisa will steal his heart. If not, Martin Grub, their disgusting cousin, will inherit the family's estate, and they will be ruined or, even worse, forced to move to France. So Beatrice must be on her best behavior . . . which is made difficult when a disgraced yet alluring detective inexplicably shows up to the ball.
Beatrice is just holding things together when Croaksworth drops dead in the middle of a minuet. As a storm rages outside, the evening descends into a frenzy of panic, fear, and betrayal as it becomes clear they are trapped with a killer. Contending with competitive card games, tricky tonics, and Swampshire's infamous squelch holes, Beatrice must rise above decorum and decency to pursue justice and her own desires—before anyone else is murdered.
---
My Thoughts: A Most Agreeable Murder
Hello Readers!
I have a cozy mystery review for you today, so let's get to it. A Most Agreeable Murder is a debut novel by Julia Seales and I picked this one up after a bit of book slump.
The book overall is a quirky and odd mix of murder mystery, who-done-it (think of the game Clue), with a splash of romance. It's both humorous and unique. Seales sets her novel in a small village with small minded views, particularly towards women (not surprising during 18th century Britain). What I love is how Seales' main character pushes those boundaries and viewpoints in her own oddities and love of sleuthing. She's a great character to further explore, while juxtaposing her uniqueness as a social commentary on the treatment of women during the regency period.
Though a bit over the top, and the abundant cast of characters distracting, Seales debut is entertaining, and sprinkles in a bit of romance, which, if I'm being honest, I would have loved for the budding romance between Beatrice and a certain grumpy detective to take center stage.
Fingers crossed the author considers continuing this story.🤞
Happy Reading ~ Cece
RATING:
– Satisfyingly Inked
Publication Details
| | | | | | | |
| --- | --- | --- | --- | --- | --- | --- |
| Pub Date | ISBN | Page Count | Publisher | Age Group | Source & Format | Review Posted Online |
| 27-Jun-23 | 978-0593449981 | 352 | Random House | Adult | NetGalley, Digital ARC | June 1, 2023 |
Instagram Post
Similar Books Recommended by Sheaf & Ink

Playing It Safe, Ashley Weaver

A Spinster's Guide to Danger and Dukes, Manda Collins

To Swoon and to Spar, Martha Waters
Need More Book Recs?
Check out these reviews by Sheaf & Ink to find your next favorite read⬇️
Welcome Reader!
I'm Cecelia and I'm so glad you're here! You'll find honest reviews, book recommendations, along with other bookish essentials. So happy you stopped by!
– C
ABOUT THE CREATOR
CECE BECKMAN
---
Cece holds a Bachelor's degree in Creative Writing from California State University, Long Beach. She lives in California with her husband and children. When she's not reading or writing reviews she can be found wandering book aisles at local bookshops, drinking iced cold lattes with cold cream foam, or passing the time with her cat.
SIGN UP FOR POST ALERTS
Enter your email to stay up to date on any tours & reviews or exciting bookish news by Sheaf & Ink
---