The Story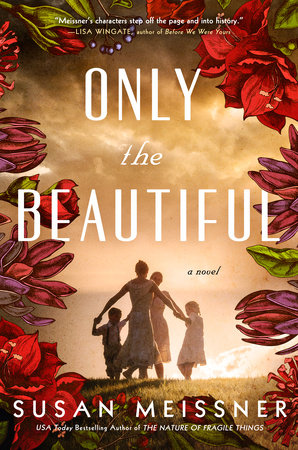 ONLY THE BEAUTIFUL by Susan Meissner
California, 1938—When she loses her parents in an accident, sixteen-year-old Rosanne is taken in by the owners of the vineyard where she has lived her whole life as the vinedresser's daughter. She moves into Celine and Truman Calvert's spacious house with a secret, however—Rosie sees colors when she hears sound. She promised her mother she'd never reveal her little-understood ability to anyone, but the weight of her isolation and grief prove too much for her. Driven by her loneliness she not only breaks the vow to her mother, but in a desperate moment lets down her guard and ends up pregnant. Banished by the Calverts, Rosanne believes she is bound for a home for unwed mothers, and having lost her family she treasures her pregnancy as the chance for a future one. But she soon finds out she is not going to a home of any kind, but to a place far worse than anything she could have imagined.
Austria, 1947—After witnessing firsthand Adolf Hitler's brutal pursuit of hereditary purity—especially with regard to "different children"—Helen Calvert, Truman's sister, is ready to return to America for good. But when she arrives at her brother's peaceful vineyard after decades working abroad, she is shocked to learn what really happened nine years earlier to the vinedresser's daughter, a girl whom Helen had long ago befriended. In her determination to find Rosanne, Helen discovers that while the war had been won in Europe, there are still terrifying battles to be fought at home.
---
My Review: Only The Beautiful
A story about a young girl in the 1940's whose parents die tragically, fostered by her parents employers, who mistreat her in more ways than one, and who has an unusual perception known as Synesthesia.
This was a challenging read for several reasons. It takes place during a time in history of great atrocity, (World War II) not only in Europe, and here in the United States (continued use of eugenics, which continued throughout the first half of the 20th century in at least 32 states in the US).
I was completely immersed in the main characters story from the very beginning. However, when we reach part II of the story, I was hoping we would transition to seeing Rosie's daughters timeline or continue the new chapter of Rosie's life. Instead we follow the story of Helen Calvert, the aunt of Rosie's child, and it felt a bit jarring to be taken away from Rosie's story and how her life played out.
A Few More Thoughts
Knowing why the author chose the route she went, rather than continue with Rosie's story, after finishing the book, for me, I would have preferred sticking with the main characters story or that of her daughter. I was intrigued that Meissner included Synesthesia in her novel and would have loved for her to continue discussing the topic beyond the first part of the book. How meeting the professor from UCLA changes her life, but also give voice to what Rosie was experiencing not as something that should be seen as a defect or a need to be cured, bur rather, as another human experience to accept and embrace.
A story that comes full circle, Only the Beautiful is about motherhood, family, loss, grief, and the hope of new beginnings even when it feels like any chance for something new seems impossible.
Happy Reading ~ Cece
RATING:
– Satisfyingly Inked
Instagram Post
Check out my Instagram Post! Thank you to @berkleypub for the advance copy for review.
Publication Details
| | | | | | | |
| --- | --- | --- | --- | --- | --- | --- |
| Pub Date | ISBN | Page Count | Publisher | Age Group | Source & Format | Review Posted Online |
| 18-Apr-23 | 978-0593332832 | 400 | Berkley | Adult | NetGalley, Digital ARC | May 8, 2023 |
Similar Books Recommended by Sheaf & Ink

I Must Betray You, Ruta Sepetys

The Girl in His Shadow, Audrey Blake

The House of Eve, Sadeqa Johnson
Need More Book Recs?
Check out these reviews by Sheaf & Ink to find your next favorite read⬇️
Welcome Reader!
I'm Cecelia and I'm so glad you're here! You'll find honest reviews, book recommendations, along with other bookish essentials. So happy you stopped by!
– C
ABOUT THE CREATOR
CECE BECKMAN
---
Cece holds a Bachelor's degree in Creative Writing from California State University, Long Beach. She lives in California with her husband and children. When she's not reading or writing reviews she can be found wandering book aisles at local bookshops, drinking iced cold lattes with cold cream foam, or passing the time with her cat.
SIGN UP FOR POST ALERTS
Enter your email to stay up to date on any tours & reviews or exciting bookish news by Sheaf & Ink
---